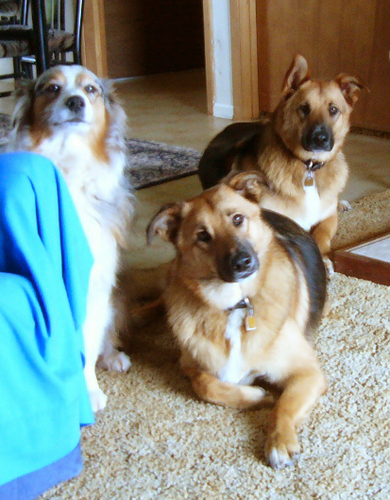 Make it your home page when you're on the Internet

The Animal Rescue Site focuses the power of the Internet on a specific need — providing food for some of the 27 million unwanted animals given to shelters in the U.S. every year. Over 10 million animals are put to death every year in the U.S. alone because they are abandoned and unwanted.

Each click on the purple "Click Here to Give - it's FREE" button at The Animal Rescue Site provides food and care for a rescued animal living in a shelter or sanctuary. Funding for food and care is paid by site sponsors and distributed to animals in need at the Fund for Animals' renowned animal sanctuaries (including Cleveland Amory Black Beauty Ranch in Texas and the Wildlife Rehabilitation Center in California), pet shelters supported by the Petfinder Foundation , North Shore Animal League , and other worthy animal care facilities supported by the GreaterGood.org foundation.

http://www.theanimalrescuesite.com/cgi-bin/WebObjects/CTDSites.woa


TowerWatch Ministries was founded by Cal Lehman. Cal was a Jehovah's Witness for 35 years, served as an Elder for over 20 years and is now a born-again Christian.

It is his prayer that his web site will help Christians reach Jehovah's Witnesses with the Gospel of Jesus Christ and help Ex-Jehovah's Witnesses through the processes of leaving the Watchtower organization. With this in mind, the site also has a discussion forum where information and encouragagement can be exchanged.

In addition to his web site Cal provides support group meetings in the Columbus, Ohio area for those who have left or are thinking about leaving the Watchtower Organization.

He also provides speakers for churches and Bible study groups explaining what Jehovah's Witnesses believe and how Christians can best share the Gospel of Jesus Christ with Jehovah's Witnesses.


Chris Stire formed Life After Watchtower Support Ministry in 2002. He is a former Jehovah's Witness and lives with his wife, Beth, in St. Thomas, Ontario Canada.

His site offers unconditional, nonjudgmental, encouraging, and confidential support to former Jehovah's Witnesses who still wish to know the True God, and have the relationship with Jesus Christ--a relationship that was hidden from them in the Watchtower Society. He realizes that many are at different stages in their post-Watchtower lives, and that developing a journey with Christ involves different lengths of time as each individual is unique.

He does not get involved in doctrinal debates, nor does he serve to "bash" the Watchtower Society. His main goal is to help those hurt, confused, misled, or otherwise affected by association as a Jehovah's Witness. He wants them to know a successful life after the Watchtower is possible.


Jehovah's Witnesses for Jehovah God. According to their Mission Statement, "the purpose for this site is to impact witnesses of the Watchtower with the Truth of what they are not being told, so they can experience true freedom to be who God intended them to be." This is a large site with pretty much something for everyone.

The Daily Motivator is written by Ralph Marston. It contains a brief motivational message that is published each Monday through Saturday on the web and by e-mail. Each daily message is about 200 words long and can easily be read in a minute or two. The Daily Motivator provides a fast, regular and reliable positive boost each day.

Each daily message from The Daily Motivator is new and original. The messages never repeat. Specific positive values, such as gratitude, discipline, acceptance, balance, focus and many others are reinforced again and again, yet in a new and refreshing way each time.